Troupe, now MOVERS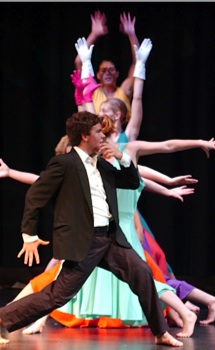 TEENS PERFORMING VARIANT  DANCE
TEENS PASSIONATE ABOUT DANCE                                                  THIS IS CONCERT DANCE for expression and performance.  ART MOVES
The troupe began in San Francisco with a group of dancers from several different schools who met to rehearse on Saturdays and performed for schools and civic events, notably the anti-apartheid movement for South Africa.  It was called Energize U.S.
When Debi moved to the east coast she would drive to Maine weekly to teach dance in the vestry of the First Congregational Church in South Paris.  The second TROUPE was formed by a group of 8 to 11-year olds including Lisa Watt (now Dr. Miller), Melissa Story, Magili Chapman (now Quinn, D.O.), Meg Pribram, Sue Witham (now Simmons) Molly Ware, Amy Benner, Solai Buchanan,  This troupe was called Energize U.S., East! and performed for local civic events including fairs and fashion shows.
Over the years the TROUPE has performed in just about every school in western Maine, several dance studios, the former MAINE FESTIVAL and NEW YEAR'S PORTLAND.  Several troupe members have performed in and/or won choreography awards at DANCE PORTLAND., and performed in many ALIVE and WELL showcases at the former RAM ISLAND DANCE studios at Portland Stage.  The TROUPE was an annual guest at Belfast Dance Studio's GALA at the Camden Opera House.  The young dncers performed in many local nursing homes, fairs, showcases,  churches, and Alan Day's FAIR  SHARE FOLLIES.
From the mid to late 90's the troupe's name changed to the DANCE INSIDE OUT GROUP as that's where they felt their movement came from.
In 2000, to bring clarity to the entity, the TROUPE became the Art Moves Dance Group, although among all dancers past and present it will always be THE TROUPE.