VARIANT ~ Technique ~ JAZZ ~ Requests
$55/MONTH
CO-SHOW with EXPANSION ARTS
Thursday, June 16th at 7PM at OHCHS
Dress Rehearsal Monday, June 13th after school at OHCHS
colors are BLACK AND BRIGHT
ALL CLASSES IN NORWAY THROUGH JUNE

Bethel Classes:  Same Time but in Norway

Inquire. Subject to change.

Debi irons is teaching her  original VARIANT Jazz for all ages and levels.  VARIANT is a hybrid of musically derived dance forms.   Unite in a love of dance.  Delight in our individuality.

combining healthy technique with self-expression & creativity

Debi teaches VARIANT, HIP-HOP, JAZZ, & TECHNIQUE and is open to new ideas and requests!

Kids classes are one hour.  Teen and Adult classes are sometimes  longer, depending on stamina and desire :)

TECHNIQUE for the serious student 10+ - placement, alignment, and a deeper sense of where in the body and through space movement comes from.  Most beneficial for young dancers with a variant class.

TAP, HIP-HOP, BELLYDANCE & MORE AT                               EXPANSION ARTS!   207-890-0514 Sasha

Intermediate and advanced week-long summer workshops.

Comfortable clothing may be worn that provides freedom of movement.       Socks and bare feet on the dance floor.      Preparation leads to a pleasurable dance class!

Download our printable registration form.

---

There is one rule at Art Moves
-RESPECT-
yourself, each other & the space.
We recycle and keep things tidy!

 

Would you like to sponsor a Dancer?

If so, ask Debi how.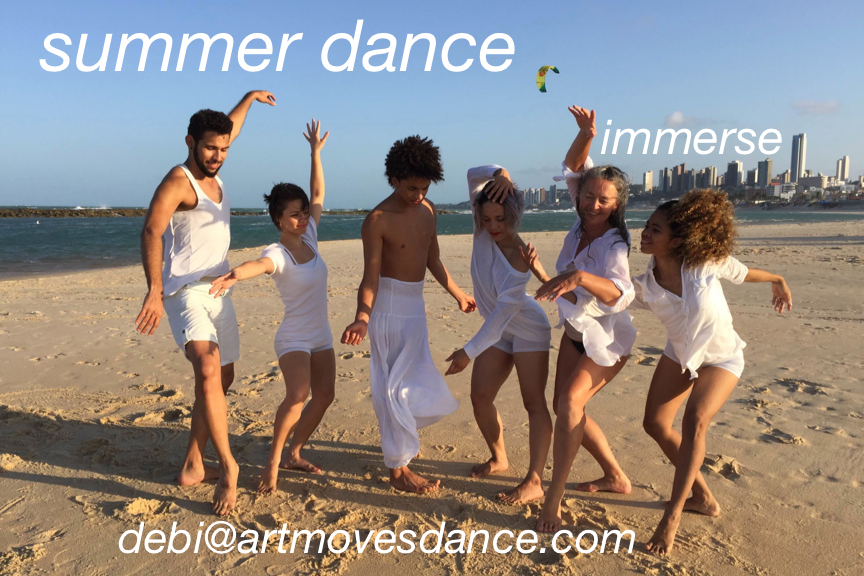 ADULT INT/ADV JULY 11-15 9 TO NOON  Give yourself a week of luscious dance and comraderie.
$200.  Pay in Full by June 1st for 10% discount.  Reserve with $50.   Balance Due First Day.