COTTAGE STREET CREATIVE EXCHANGE, INC.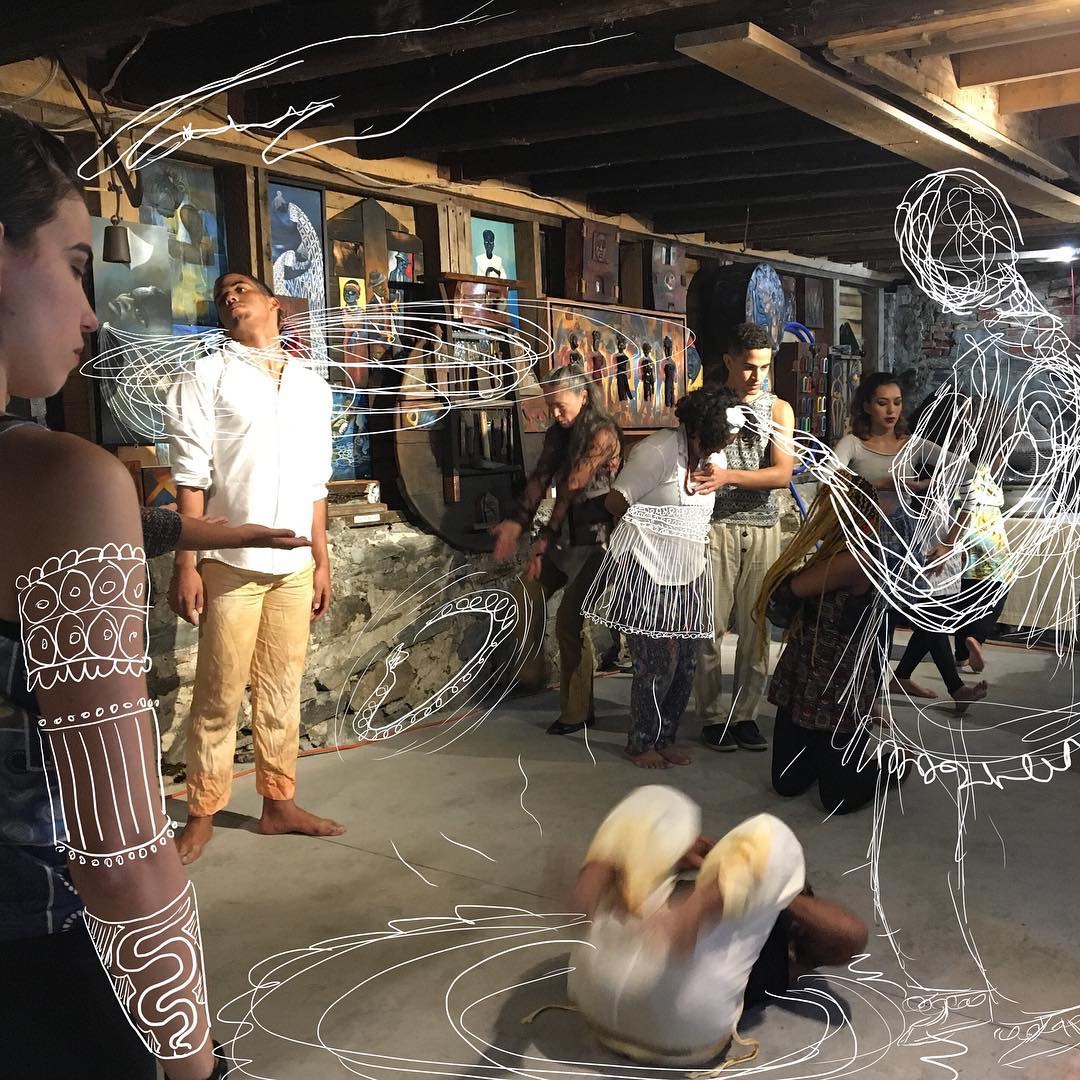 Federal University of Rio Grande do Norte Grupo de Dança from Natal, RN, Brazil photo and art Daniel Minter
during a performance in Portland, Maine in May, 2017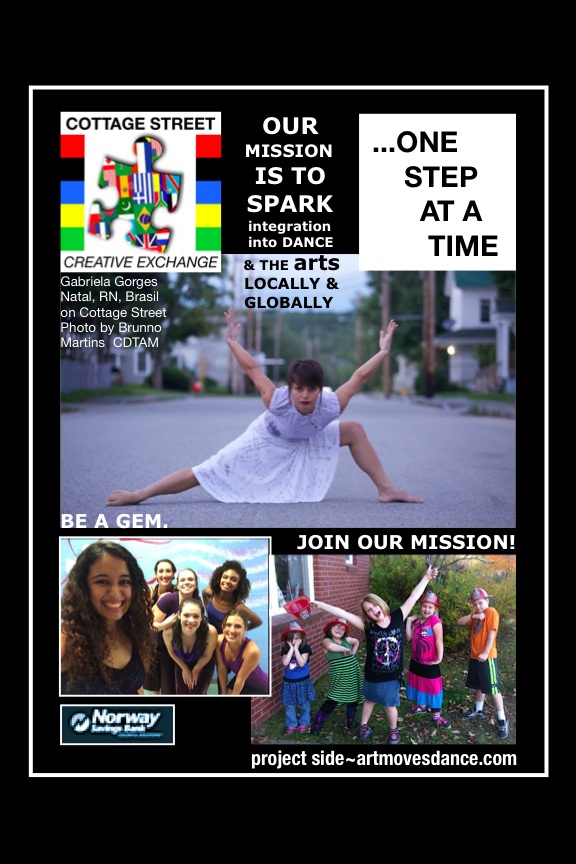 a non-profit with a GLOBALOCAL focus.   Our name reflects a deep commitment to our neighbors, along with a passion for a broader exchange of cultures.
The mission of Cottage Street Creative Exchange is to spark integration into dance and the arts, locally and globally....one step at a time.
President - Shellie Leger.
Vice-President - Amanda Daniels
Secretary - Deborah Irons
Treasurer - Mickie Shibles
Many thanks to original directors Jared Cash, Dr. Jill Gabrielsen, and Hedy Kummer for
creating and launching such a visionary and practical mission statement.
C.S. Creative Exchange is happening every day because of you.
JOIN OUR  GEM COLLECTIONS!
inspired by Perham's at Trap Corner where Troupe dancers would stop while on "Tour"
Many thanks to the generous sustaining support of our
Corporate Emerald Sponsor
Please ask about corporate benefits!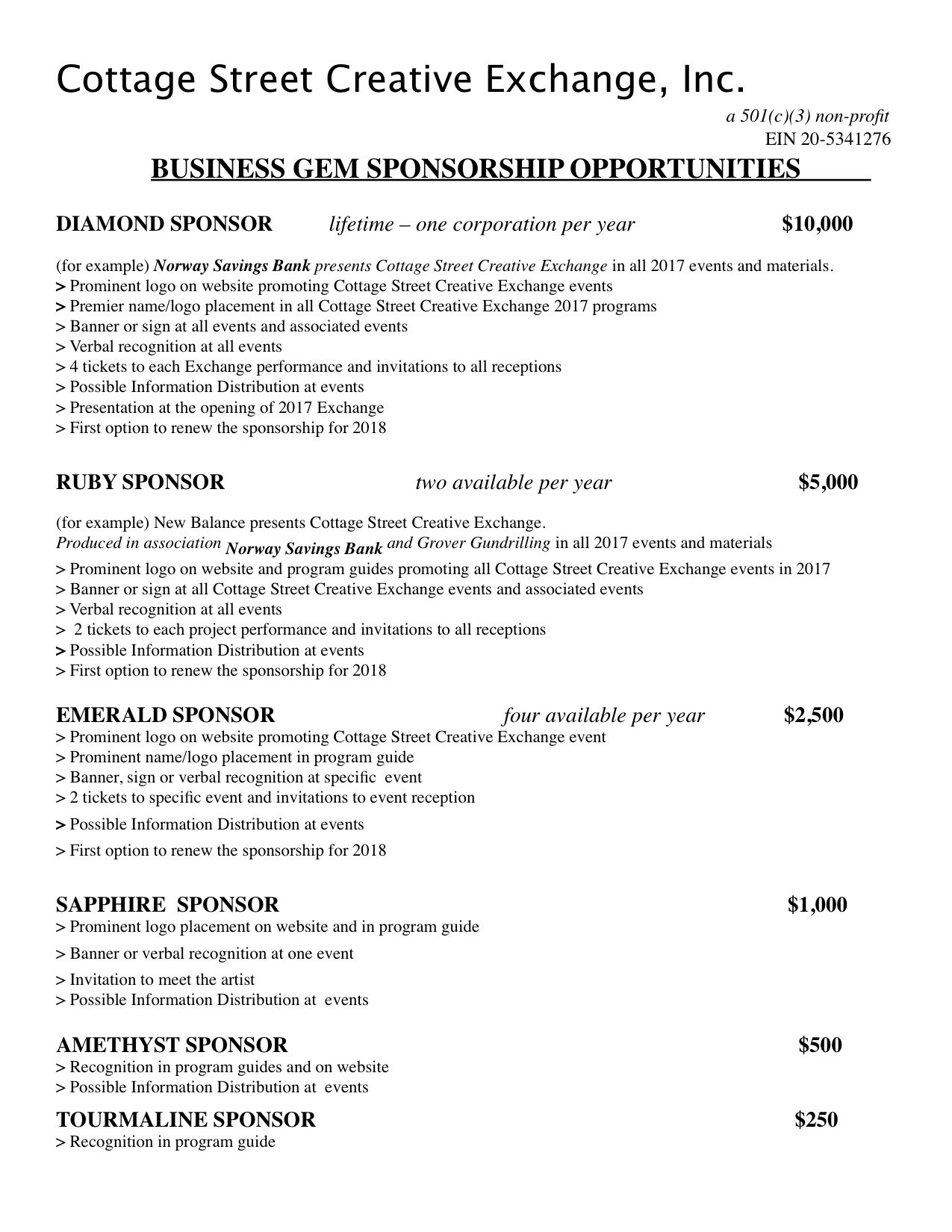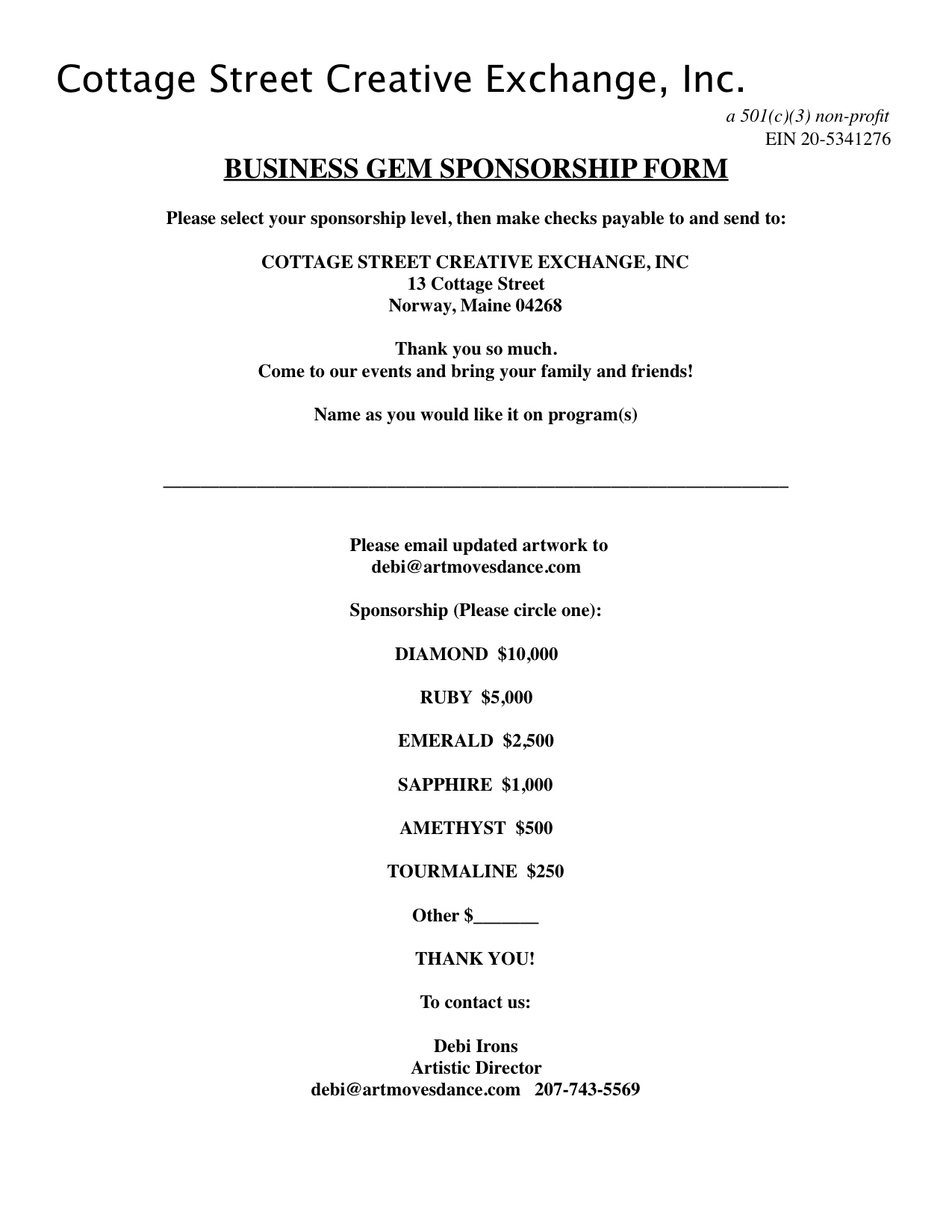 We value our priceless
PRIVATE GEM COLLECTION
MICA - 49
Carol Dilley John and Wendy Williams
QUARTZ 50 - 99
Susan Batchelder Ellen and Gene Benner Kirsten and Dave Brownell
Tammy and Michael Dignan Michael and Jennifer Lackey Lisa Latno   Jane Osler
Shellie Leger & Steve Mare   Mary & John Lemmon Dick & Wendy Penley
Joanna Reese Bon & Linus Story CJ & Kyle Walo
TOURMALINE 100 - 199
Liz Cook Bruce & Shannon May Nancy Perham Peg Perham
Brian & Shelly Shibles Foster & Mickie Shibles Gil & Peggy Turner
AMETHYST 200 - 349
Nan Brett/The Ballroom Mary Ann Brown Dr. Jill Gabrielsen
Emma DayBranch Jane Perham
SAPPHIRE   350 - 499
EMERALD  500 - 749
RUBY 750 - 999
The Estate of Norm & Dot Cyr
Douglas A, Perham
DIAMOND
1000+
CORPORATE GEM COLLECTION
10,000
DIAMOND
RUBY  5,000
EMERALD  2,500
SAPPHIRE  1000
AMETHYST 500
TOURMALINE
250
To join, simply send a check payable to COTTAGE STREET CREATIVE EXCHANGE, INC.
13 Cottage St   Norway, ME 04268
A publicly supported 501(c)(3) non-profit corporation.
Let us know how you would like to be listed here and on show/event programs!
OR, DONATE RIGHT HERE, RIGHT NOW VIA PAYPAL!